Oaktree-Backed Cyanide Company Bets on ESG-Friendly Mining Shift
•    Sodium cyanide maker Draslovka touts novel glycine method
•    CEO sees metals mining revival as key to curb fossil fuels
By Krystof Chamonikolas
(Bloomberg) -- The world's top producer of solid sodium cyanide, used to the separate gold from ore, expects to boost sales and profits with a new technology that may help the mining industry cut costs and reduce its environmental impact.
The Prague-based chemicals company Draslovka, which last year secured a $150 million investment from Oaktree Capital Management LP, is in advanced talks with major producers of the metal to adopt the novel glycine leaching method, Chief Executive Officer Pavel Bruzek said in an interview. 
After quadrupling revenue through an acquisition of Chemours Co.'s mining-solutions business, Draslovka expects further rapid growth, driven mostly by the licensing of the glycine rights. The non-toxic, biodegradable and recyclable agent allows miners to use less sodium cyanide, generate less waste, and extract other metals present in the gold ore, according to the CEO.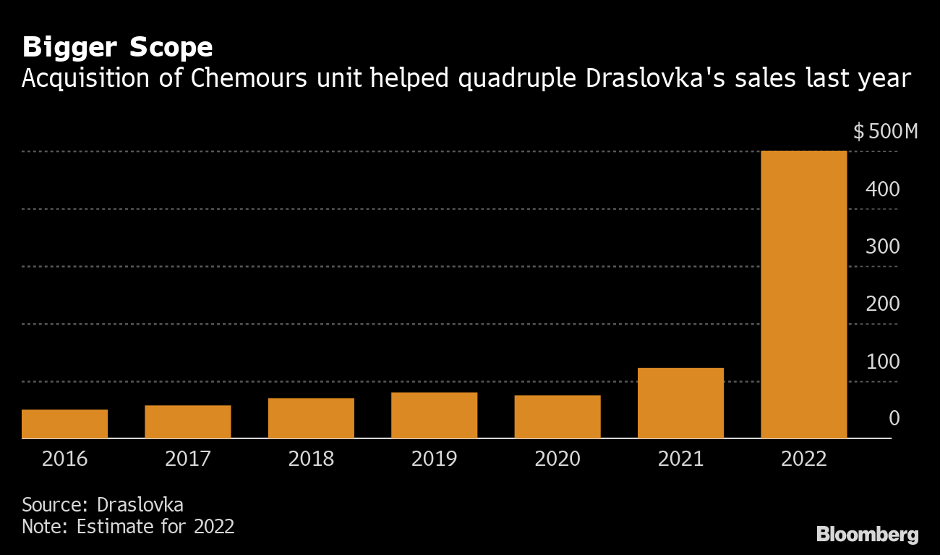 "The glycine method is a game-changer," said Bruzek. "It will help businesses boost their top line and their bottom line, while also ticking all the ESG boxes."
If adopted, the CEO says the technology could have a financial upside for the mining industry in hundreds of millions of dollars per year. Draslovka is also courting new customers among producers of copper, nickel and cobalt, where glycine can replace highly toxic sulfuric acid, extend the life of a mine, and even re-process and downsize old waste dumps at a profit.
Founded in 1906 in what was then the Austro-Hungarian Empire, the company is now using its Czech base primarily as an innovation hub, while most of its mass-scale production is in the US. There it enjoys cheaper energy and raw materials, more favorable regulation, and is physically closer to its biggest customers, such as miners Newmont Corp. and Equinox Gold Corp. as well as tire producers Bridgestone Corp. and Michelin, according to the CEO.
A year ago Draslovka said that the strategic investment from Oaktree could help prepare it for a potential listing in the US or Europe in the mid-term. Bruzek also expects to eventually overcome a protracted regulatory review that's holding up a takeover of Sasol Ltd.'s sodium-cyanide business in South Africa, agreed in mid-2021.
If the deal goes through, Draslovka expects revenue to exceed $1 billion in five years, up from about $500 million expected for 2022, with adjusted Ebitda surging to over $400 million from about $100 million.
The company's expansion took place during a period when regulators and ESG investors saw mining-related business as too risky, compressing asset valuations. Draslovka is now benefiting from the global decarbonization push, which is boosting demand for metals needed to make electric vehicles and batteries.
"The world is beginning to sober up and realize that it will need to obtain those basic materials, in a sustainable way, to get rid of fossil fuels," Bruzek said. "The Russian invasion of Ukraine has become a catalyst, with both Europe and America realizing how fragile global supply chains are and that we can no longer rely on the rest of the world for materials our industries need."